skip to navigation
PMI Missionaries
Tom & Carol Hudson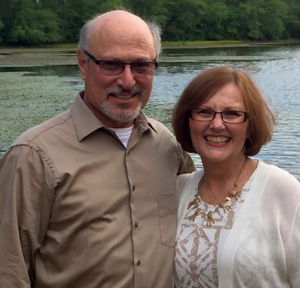 Ministry Area: Missionary support and development
Responsibilities: Managing Director of PMI
E-mail Address: tomhudson.pmi@gmail.com
Tom and Carol are from Boca Raton, FL. They met in high school and have been married since 1973. They have five children and eight grandchildren. Tom is a graduate of Florida Atlantic University, Westminster Theological Seminary and the University of Lisbon.
While in seminary, Tom assisted Dr. O. Palmer Robertson to plant the Olive Street Presbyterian Church in Coatesville, PA. They moved to Portugal in 1982 where they led a Mission to the World (MTW) team effort to plant a church in a Lisbon suburb and then, for nine years, pastored an independent Presbyterian church in downtown Lisbon. By some accounts, Christ's Church is the very first Protestant church in Portugal. It was planted in 1870 by Presbyterian ministers from the Free Church of Scotland. While Tom was pastor, Christ's Church joined the MTW Presbytery.
During their twenty plus years in Portugal, the Hudsons saw many Portuguese come to faith, taught Evangelism Explosion, established an English language school for creating evangelistic contacts, did outdoor preaching, and most importantly, perhaps, worked to create a partnership with the Presbyterian Church of Brazil (PCB). The MTW-PCB partnership continues strong, after almost thirty years of ministry together.
Upon returning to the US, the Hudsons were instrumental in helping to plant a church among Brazilian immigrants in south Florida. The Emanuel Presbyterian Church in West Boca is a vibrant, growing church, sharing facilities with an Anglo PCA congregation.
In 2013, the Hudsons moved to Quincy, MA, to lead a team effort, again with Brazilian pastors, to establish the Cristo Rei, or Christ the King Presbyterian Church. They continue to use ESL as a means of outreach and many Chinese, Brazilian, and Hispanic students attend classes.
In 2011, Tom became the managing director of PMI. In this role, he interacts with our missionaries by visit, or most often, by email and Skype, and helps our board discover new opportunities for cross-cultural partnerships.